FIBC Bulk Bags From The UK's Leading Packaging Supplier
We provide our customers with expert advice on all styles, designs and options of bulk bags.
Centurion Packaging have many years of experience in the packaging industry, so we understand your packaging needs. You'll find all the information you need on our website to help you decide exactly the right packaging for your product requirements. Packaging is our business, we understand it. If you can't find your perfect packaging, we'll create a custom design, especially for your requirements. Just let our friendly expert team advise you on how best to find the right packaging for your products.
What is an FIBC bulk bag?
FIBC (Flexible Intermediate Bulk Container) or bulk bags are industrial containers made from flexible fabric, designed for transporting or storing free-flowing goods and materials.
Bulk bag packaging is required for many different free-flowing materials. In order to contain such materials correctly, bulk bags need to be well constructed for their purpose and strength. They also need to be practical to lift and move and able to withstand movement whilst filled without compromising the contents they hold. So it really is vital that you obtain the correct type of bulk packaging bags for the materials you need to transport.
Things To Consider Before Buying Bulk Bags:
Consider the type of item you are packaging.
Do you require a way of discharging the item?
Will electrostatic discharge damage your product when it is being filled or discharged?
What is the weight and volume of the product that you need to transport?
What is the type of filling and the discharge mechanism required for the product being transported?
How does the material behave when it flows?
Will the bulk bag require multiple handlings?
How do you intend for the bag to be lifted?
Does the bulk bag require an inner coated lining in order to prevent seepage or prevent the product from getting damp?
Is the product you are carrying liable to sift through the edges of the bag requiring the bag to be sift proofed at the seams?
Is the product classified as dangerous or hazardous?
Is the product a foodstuff?
Will the bag be for single-trip or multi-trip use? (A safety factor of 6:1 indicates that the bag is strong enough to be emptied and refilled multiple times.)
It's also important to look at the safe working loads that a bag can carry, for example, 1000 kg.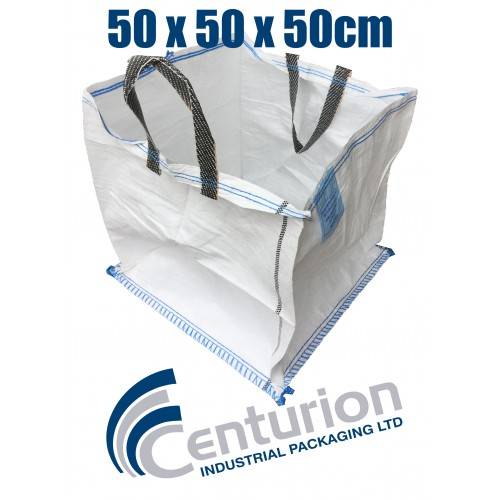 FIBC Bulk Bags Weight Allowed
There are several types of bulk packaging bags and they can be made for vastly different purposes. For example, bulk bags may need to carry between 50 and 2000kg of weight. As a result, the greater the weight of the product, the stronger the fabric grade must be to withstand that weight and also any movement which the bulk bag may be subjected to when it is transported and lifted.
Our FIBC bags are tested to ensure that they can carry 1000 times their own weight or a safe working load. Made primarily from polypropylene, a very strong material, this high strength thermoplastic is both strong and flexible, perfect for transporting heavy loose material. All bags have a test and certificate number along with the date of testing and date of manufacture, plus batch number, so you have peace of mind that the bag is genuine and safe.
All this information demonstrates the bag is tested to perform to a safety standard as well as providing full manufacture traceability about the production of the bulk bag. Extruded in tubular format, these polypropylene threads are then woven into a strong robust fabric which is certified to carry heavy loads of loose materials.
FIBC For Hazardous Materials
For customers dealing with hazardous our potentially hazardous materials, we supply ADR & UN certified bulk bags in a range of different sizes to cope with a variety of working lodads from 50kgs to 2000kgs. These are very safe to use and extremely strong and flexible thanks to the high grade woven polypropylene we use in the manufacturing process.
Food Grade Bulk Bags
We also have FIBC bulk bags that are suitable for both pharmaceuticals or food. Our HACCP, BRC, and ISO food grade certified quality big bags are made using 100% virgin grade material in a clean and sterile environment and feature external seams to prevent contamination.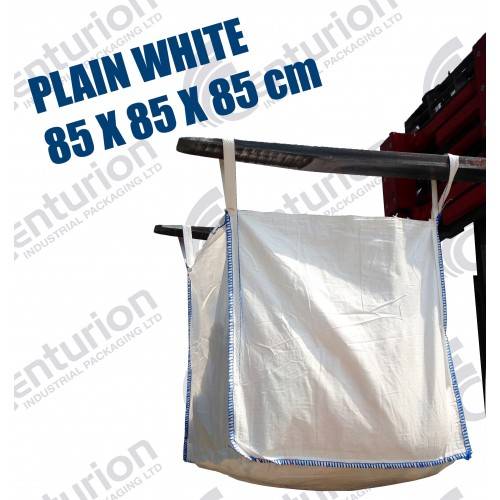 5 Essential Questions Answered about FIBC bags
We often spend a considerable amount of time answering questions from bulk bag buyers putting our years of experience to good use. Here are five essential questions answered about FIBC -
What is coating or laminate on bulk bags?
Coating is sometimes referred to as a laminate, and is an additional polypropylene film that is added to the bag's fabric which seals the small gaps in the poly weaves. The film can be added to both the inside and outside of the bag.
Laminate can also act as a moisture barrier. Poly liner is a better choice for some uses to protect the contents but note that neither coating or a liner makes the bag 100% waterproof.
How much product can a bulk bag hold?
Jumbo bags are manufactured to have a Safe Working LOad from 1000 to 4000 lbs, with some specialty bags are manufactured that can hold up to 5000 lbs - but these bags are not commonplace.
Are bulk bags recyclable?
FIBC bags are made from 100% polypropylene which can be recycled. Recycling is feasible for businesses who use large quantities of bags or have storage space for them for a long period of time.
Can FIBCs be reused?
Bags can be reused under certain conditions but the bags must be designed and rated for multiple uses. FIBC bags are reusable if they have a safety factor ratio (SFR) of 6:1.
What does 5:1 and 6:1 SF mean?
Most woven polypropylene bags are manufactured for one use. Single-use bags are rated at a 5:1 safety factor ratio, meaning they can hold up to five times the amount of their rated safe working load (SWL). For your own safety, we recommend not filling a bag over its safe working load.
A number of woven polypropylene FIBCs are designed specifically for multiple uses, with these bags rated at a 6:1 safety factor ratio. This means they can hold up to six-time their safe working load and again we would strongly suggest not filling a bag over its safe working load.
Order FIBC Bulk Bags From Centurion Packaging
Centurion Packaging manufacture and supply FIBC 1 tonne bags which are perfect for builders materials, bulk logs and firewood, garden waste or aggregate as they're durable and high strength. Exceptional quality, these heavy-duty bags represent excellent value for money and come in plain white with 90x90x90 dimensions. Their open-top flat base ensures easy to fill and extraction of materials as well as stability and strength. Based in Cheshire, Centurion packaging provide free mainland UK delivery.
All you have to do is consider your needs and decide what kind of bulk bag packaging your product requires. See our product list here and the markets we supply to.
If you are unsure, let our friendly experts at Centurion Packaging advise you on what best suits your needs in terms of style, design and options. Call or email us today and we'll guarantee you pick the best FIBC bulk packaging option for your needs.